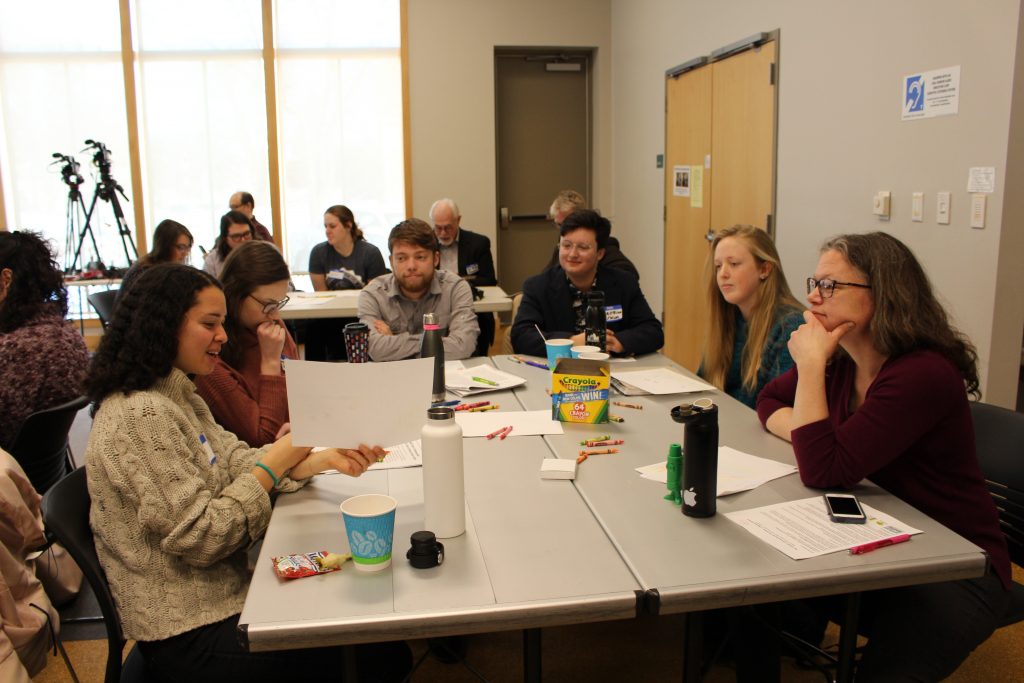 The Environmental Health Sciences Research Center (EHSRC) hosted more than 40 journalists, researchers, and students on March 5, 2019, to discuss challenges and opportunities in the field of science communication and environmental reporting. The summit, held at Drake Community Library in Grinnell, Iowa, aimed to increase journalists' interest in reporting about environmental issues, as well as to help researchers better communicate effectively to general audiences.
Part of the mission of the EHSRC Community Engagement Core is to improve environmental health literacy. Bringing together journalists with environmental health researchers is one way to increase the public access to science. For this event, the EHSRC collaborated with IowaWatch, the UI School of Journalism and Communications, the Center for Health Effects of Environmental Contamination (CHEEC), and the Center for Prairie Studies at Grinnell College.
Speakers included journalists Amy Mayer from Iowa Public Radio and Lyle Muller from IowaWatch along with University of Iowa faculty and researchers from the School of Journalism and Mass Communication and Colleges of Engineering, Medicine, and Public Health. Chris Martin from the Department of Communication Studies and Digital Journalism at the University of Northern Iowa and his daughter, a student journalist from the award-winning Cedar Falls High School newspaper, The Tiger Hi-Line, gave a presentation about engaging high school student journalists in environmental reporting.
Journalists from media outlets across the state participated, including the Dubuque Telegraph-Herald, The Des Moines Register, Estherville News, the Iowa City Press-Citizen, and Iowa Public Radio. A diverse group of students were in attendance as well with representation from the University of Iowa, Iowa State University, Grinnell College, and Muscatine Community College.
The event included panel discussions about science in the media and nitrates in water, hands-on activities about environmental storytelling, and a brainstorming session to generate environmental topics for future reporting. Darrin Thompson, a PhD candidate in occupational and environmental health, discussed his research on neonicotinoids, and Peter Thorne, professor and head of occupational and environmental health and director of the EHSRC, gave a presentation about his experiences as chair of the EPA Science Advisory Board. Participants also engaged in a group literature discussion to comment on real stories that have been published recently in Iowa.
This story is also published on the College of Public Health Website
You can view 5 of the sessions from the Environmental Journalism Summit. View them here